Interview with Patrick Koller, Chief Marketing & Chief Digital Innovation Officer (CMO & CDIO) at Franke Coffee Systems.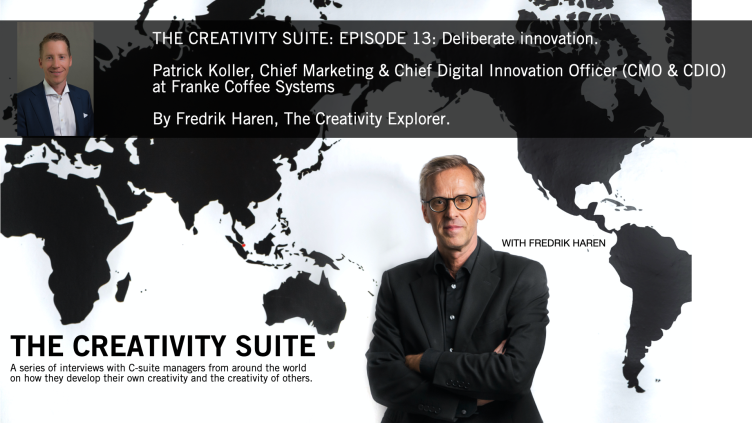 "Coffee is more complex than wine or any other drink out there. And we aim to create a wonderful experience from this amazing natural product with the help of our knowledge, our technology, our processes and our creativity."
The words are the words of Patrick Koller, Chief Marketing & Chief Digital Innovation Officer (CMO & CDIO) at Franke Coffee Systems. Franke is one of the leading producers of high-quality coffee machines in the world. Swiss perfection for your cup.
Franke was founded in a small Swiss town called Rorschach in 1911. For over 100 years they have perfected kitchen equipment from sinks to coffee machines, constantly innovating to create new products.
In my interview with Patrick Koller we talked about the balance between the traditional aspects of the business (for example engineering the inside of a coffee machine) to the more fast-changing aspects of business (like "Internet of Things" or digitalisation.)
At Franke Coffee they need to balance these two "worlds". One world, perhaps a bit slower in change, but focused on quality and perfection. One world, faster at changing, trying things out, testing new ways. Sometimes it works, sometimes it doesn't.
One world developing by using Waterfall ("Waterfall is a project management approach where a project is completed in distinct stages and moved step by step toward ultimate release to consumers.").
One world using Agile. ("Agile development comprises various approaches which requirements and solutions evolve through the collaborative effort of self-organizing and cross-functional teams and their customer/end-user.")
Both worlds innovating in their own way. And both worlds needing to talk to, and work with, each other.
When a traditional industry is moving into the world of digitalisation and the Internet of Things the solution is not to make the whole company suddenly start thinking like a start-up.
The solution is to know where and when to move fast.
As Patrick said: "It is not 'slow' vs 'fast', it's 'know when to be slow and where to be fast'."
As a long time established player with a huge installed customer base Franke Coffee should focus on keeping those relationships. At the same time, they were compelled to develop a Digital Innovation Roadmap connecting the machines for remote services.
Patrick Koller: "If we did not develop our digital services we would be challenged in our core business to sell coffee machines." He continued to explain: "Be clear where it makes sense and where it doesn't make sense to disrupt yourself at the moment. For every one of our machines, we are taking something good and making it better yet. Sometimes in small steps, sometimes in big leaps."
I think we can call what Patrick talks about "Deliberate Innovation". To intentionally decide where and when to go fast and where and when to do incremental improvements.
Deliberate Innovation can be divided into "Deliberate Disruption" and "Deliberate Improvements".
Deliberate Disruption: The areas where you need to push in order to disrupt yourself, before someone else comes along and does it.
Deliberate Improvements: The areas where you need to constantly tweak your solution to stay ahead of the existing competition.
With the approach of Deliberate Innovation a 100-year company can balance the advantages of being an incumbent with the advantages of being able to create something brand new.
What areas of your business should you Deliberately Disrupt and which parts should you just Deliberately Improve?