Interview with Nick Emery, Global CEO of Mindshare.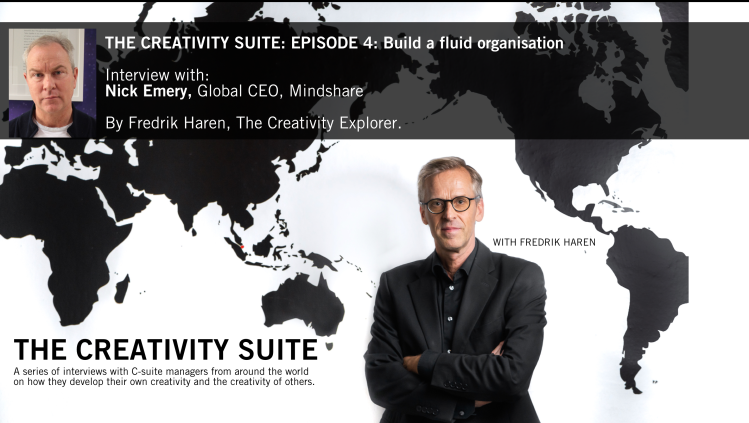 "Creativity is what drives the world." The words are Nick Emery's.
Nick Emery has had an almost unique position to see how the global creative media industry has changed over the last two decades. He has been with Mindshare for more than 20 years and held the position of global CEO for 10 years. Mindshare is a media agency with a global network of 116 offices in 86 countries, almost 10,000 employees, and billings of $17B. They work with 30 of the 50 largest marketers in the world.
Nick has seen the rise of the Internet, the death of cable TV and newspapers, the birth of mobile and many other media disruptions. He has seen the media industry go from a macho "Mad Men" culture to a much more inclusive industry, and from being an industry where ad campaigns were being measured in months to today where they are being measured in seconds.
I talked to Nick about how Mindshare has been able to stay on top of this highly volatile industry for so long. Nick told me: "We look at ourselves as a network of networks. We are actually not primarily a media agency, we are a talent agency." He goes on to explain that at the core of Mindshare is an approach to hire really creative people of different competencies and then build an organisation where they can work together in the project that is right for them right at that moment.
It means that Mindshare has a loose organisational structure.
"Our clients need totally different craft skills from us, so our client team might be totally different in January than it was in July."
Nick talks about creating "a fluid network" of people where different creative experts move from one problem to another working in temporarily assembled groups because – as he puts it to me – "In a fluid world you need work as a fluid company."
In a world where ad campaigns can be measured, evaluated and changed in seconds Mindshare has to be much more dynamic as an organisation as well, and that means – for example – making it as easy as possible to put together the right kind of team from a selection of experts.
"To be truly creative you have to hire different kinds of people, people who are different, but whom all share your vision. You have to surround yourself with different – but likeminded – people."
In the case of Mindshare that means people of various kinds of backgrounds, from programmers and data analysts, to account directors and campaign managers and so on, but all willing to work together to solve their clients media challenges. Diversity and cognitive diversity in all its forms is key to Mindshare
To make the organisation fluid Mindshare avoids the urge to re-organise and re-structure, instead they "re-focus".
Nick again: "Companies get paralysed (when you re-organise) while everyone is thinking about how they will fit in the new organisation." So instead of re-organising the leadership at Mindshare every year come up with a number of key areas that the company needs to focus on and then those areas get communicated.
With a "re-focus" people get direction on what to prioritize, without the negative paralysis of a re-organisation.
Nick grew up in the punk scene "Not the black, dark nihilistic thing that punk became, but the original, inventive punk where the core was the rebellious idea of doing things differently, of challenging convention." Perhaps that is why he has thrived in the ever-changing environment of media for so long. I ask him for some advice for building a fluid organisation and he says: "Look at how the world is changing and pick three key strategic changes that you need to do. Keep it simple and focus on those things."
Talking to Nick you can feel his passion for building a fluid organisation that is not getting away of people's urges to be creative. An organisation that is flexible enough to adapt to the things their clients want help with right now. A corporate structure that is not so rigid, but instead is there to put together the right people at the right moment to solve a current problem.
The energy is there in his final words to me: "This is a fun, more natural way to run a business."