Interview with Massimiliano Lenardi, R&D Laboratory Director and Senior Researcher at Hitachi Europe.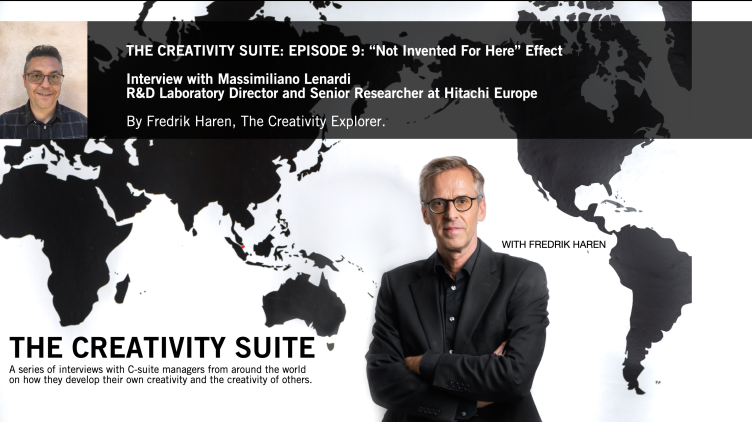 The "Not Invented Here" Syndrome is correctly defined by many as a disease. This notion that good ideas cannot come from other departments, other industries, other stakeholders has killed many opportunities over the years.
But the evil "Not Invented Here" Syndrome has a much nicer cousin; The "Not Invented For Here" Effect, and I got to find out about it by learning from Massimiliano Lenardi, R&D Laboratory Director and Senior Researcher at Hitachi Europe.
Max, as Massimiliano often goes by, is managing the European "Automotive & Industry Lab" (A&IL), within the European center for R&D (ERD) of Hitachi's R&D division (RDG).
Most people have heard of HITACHI, but most people also do not know the size of this entity. The Hitachi Group consists of more than 300 different companies that employ around 300,000 people and offer solutions mainly in 5 business segments: Mobility, Smart Life, Industry, Energy and IT. In each segment, several products and services are provided. For example, in the Smart Life segment, Hitachi offers Healthcare as well as Automotive in order to improve Quality of Life (QoL).
Massimiliano Lenardi works for innovation at corporate level, meaning he belongs to the Hitachi Ltd Corporate R&D Division, which is set to try to maximise the power of innovation for business of the Hitachi Group.
In his work, Max and his Teams in ERD are requested to support several of the many Hitachi companies by providing innovation considering novelty, feasibility and marketability. The role of RDG is to conceive, specify, develop and validate technologies and solutions enabling Social Innovation Business for that company. As Max, all Corporate R&D researchers shall be influenced by the "Not Invented For Here" Effect, for which an innovation can be made useful for the company in question AND for OTHER companies within Hitachi group.
In a conversation I had with Massimiliano, recently he said: "We are not the development arm of any specific company. We are corporate R&D. We might be the glue between different companies of the Hitachi Group, when it comes to innovation and solutions' development."
Innovation glue. That sounds interesting.
Max told me about how one company of Hitachi that he works closely with is "HITACHI Automotive Systems" (HiAMS). A&IL is deeply cooperating with HiAMS, that works as a Tier1 supplier to many of the world's largest car companies. So, A&IL could develop for and go to HiAMS with, say, new smart technologies for autonomous cars and collaborate so that HiAMS can sell them to their clients.
What the "Not Invented For Here" Effect has to do here? As Max pointed out, those advanced technologies for autonomous cars might ALSO be useful for other vehicles, like trains, tractors, busses, trucks, and trams, for example.
So instead of "just" developing for the car companies, Hitachi R&D looks at more potential uses that other Hitachi companies could benefit from.
The people working in the car industry might be so focused on how they can help their car clients that they do not see the potential for the technology that they develop for industries outside their own sphere of business or interest.
This way of looking at innovation from a bigger perspective than just the industry you are in is the one of the main focus areas for Corporate R&D within Hitachi – and one of the big advantages of having a Corporate R&D division within a Group that has 300 different companies in vastly different business sectors to work together with.
Max explained to me, though, that it is important not to create conflicts between the different Group companies around these innovations that they all could benefit from. Max: "The ownership of the project belongs to the sponsor." The sponsor being the Hitachi company that initiated this specific innovation project. That company wants the development of the project to generate innovations that they can benefit from. Corporate R&D then gets inspired by the project and investigates what other industries/companies could benefit from it, without stopping the original company from reaching their goals.
I guess you can say that Corporate R&D has a horizontal view about how innovation can be used, while most people in a specific company has a vertical view, thinking more about how an innovation can be used within their own industry.
Max gave another example of how this "Not Invented For Here" Effect has been used in Hitachi.
Telematics is described generally as "a general term that refers to any device which merges telecommunications and informatics". Nevertheless, Telematics is often associated to the transport sector only, because it includes the usage of anything from GPS to navigation systems. It is responsible for many features in vehicles from OnStar to hands-free mobile calling.
But the way R&D approached it was to look at how telematic solutions could be used in the vehicles, for sure, but ALSO how those ideas could be used to optimise a supply chain or a production line in a factory.
I guess you can describe the approach of the corporate R&D group of Hitachi as "agnostic". They go into specific industries and work with specific Hitachi companies to help them innovate, but then they take those innovations and look at them neutrally and say: "How could this be used in some of all the other industries that we are involved in?"
Not every company has the luxury of having a corporate R&D department that can hover over 300 different companies, in dozens of industries, But virtually every company can take the mindset of "Not Invented For Here" from Hitachi to learn how to take innovations from one company, department, or country and bring that into other companies, departments or countries.
The "Not Invented For Here" Effect is a powerful ally for anyone interested in spreading great ideas to a wider audience. Let's help to spread the idea of the "Not Invented For Here" Effect to more people who should know about it.